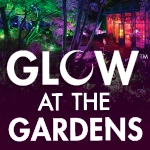 Denver Botanic Gardens
Glow at the Gardens
Denver Botanic Gardens
1007 York Street, Denver, CO 80206
Oct. 17th - 21st
Glow at the Gardens
October 17-22, 6-9 p.m.
Glow at the Gardens
Have a spooky Halloween at Denver Botanic Gardens! Glow at the Gardens is a luminous, nighttime celebration of America's favorite gourd. Take a spine-tingling stroll through eerily illuminated gardens. Enjoy larger-than-life pumpkin sculptures, live entertainment and thousands of jack o' lanterns made from real, locally grown pumpkins. Oct. 17-22. Get tickets at botanicgardens.org
URL: https://www.botanicgardens.org/events/special-events/glow-gardens
Address: 1007 York Street, Denver, CO 80206
.